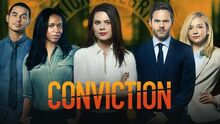 The Conviction Integrity Unit, also known as CIU, is a department within the District Attorney's office setup by D.A. Conner Wallace. The unit including lawyers, investigators, and forensic specialists who re-examine cases where there is suspicion of wrongful conviction.
The unit is currently led by Attorney Hayes Morrison. It also includes A.D.A. Sam Spencer, paralegal Tess Larson, former NYPD detective Maxine Bohen, and forensic specialist Frankie Cruz.
Ad blocker interference detected!
Wikia is a free-to-use site that makes money from advertising. We have a modified experience for viewers using ad blockers

Wikia is not accessible if you've made further modifications. Remove the custom ad blocker rule(s) and the page will load as expected.